May 31, 2023 – The puppies are all home with their forever families! Thank you to all of you that chose us and this litter to bring a new family member into your home. We're so thankful for your trust in us in raising your pup!  Because of these families, and Nora and Tucker of course, we are able to donate $2,400.00 to help rescue, feed and educate some kids in crisis in South America and in Uganda.  We gave $1,000 to Mountain Gateway Ministries, where they've already rescued almost 800 children out of trafficking, and we gave $1,400 to Amazima Ministries to help feed some kids and help them to live another month!  We're excited for all the joy we see already that has come out of this litter.  Here are the families that supported us and the pups on going home day! Thank you all. We hope for happy ever after to all of you!  xo, Mary
May 14, 2023 – We have finally decided on the girl to hold back for our breeding program:  Nellie. Keep reading for more info and updates on the pups! Selection day is tomorrow.
The puppies all did great at their vet exams – everybody checked out and is ready to go home soon. They had vaccines, nails trimmed, and thorough exams. They were all microchipped.  We also did temperament testing yesterday and everybody did well there also, ensuring that we haven't missed anything and every pup is socialized and conditioned and are well on their way to be excellent, anxiety-free family members for life! We posted the weights from the vet below with the pup's pictures.  The differing weights helps us to see if pups will be closer to mama's size (Nora about 40 lbs.) or sire Tucker's size, 48-50 lbs., and taller.
Their temperaments all showed that the pups are highly adaptable, easy to train (smart!), submissive, socialized and very bonded to humans (affectionate and they track and follow us.)  None of the pups showed timidity and all are extremely comfortable with humans, even strangers. This is what we want!
We sat and analyzed each pup, as best we can at this early age, and tried to determine any personality traits we see. We find that we develop the strong, great temperaments, and then personalities are often formed more by the environments they go home to. The energy level, personality and training style of their new pack leaders will have a lot of influence in the personality traits of a pup and how they turn out as adults. But here are a few notes about what we see here.
Nehemiah, boy – He is easy going with a very confident demeanor.
Nadia is a chilled out pup. She is engaging at playtime, but ready to relax quickly afterwards.
Natalie is energetic and playful. She loves to be held but also loves playing, chasing, and engaging with her siblings.
Nellie is curious. She goes from investigating one thing to the next and seems to love learning about her surroundings, seems to love exploring new things. She is also a sweetheart.
Nicky is a people person all the way. An absolute loving, sweet pup. Loves to sit in someone's lap or be held more than playing and chasing. She's fairly calm and subdued in her energy level.
Noel is fun and spunky. She loves to play but also loves to be picked up and snuggled in someone's arms. As the smallest pup out of ten, she had to navigate her way around all the other pups to get to mama for food, fighting her way through (since birth) and has had to be very smart . She shows some fun, quirky personality traits.
Naomi is perhaps the most laid back in the bunch. She is often the last pup to come to play, seems to prefer naps rather than be bothered with the noise and commotion of playtime. She can be very playful, but will be often the first pup to go and chill out after a short amount of play. Perhaps most like her very calm, lazy mama Nora. Nora was very laid back and calm all through puppyhood. (And still is!)
Nadeen is on the calmer side of the bunch. Still active but loves a lap, being held and *will calm immediately in our arms when we pick her up. (*This pretty much describes every single pup in the litter!)
Nicole is easy going and loving. Loves to play, but tends to stay close to us humans when we're in the room.
Nina is very affectionate. She is almost always the first pup to be at one of our sides and just wants to be held by her humans!
May 11, 2023 – Nora and Tucker's pups are doing great. They're right where we want them to be in their growth and conditioning. They are doing well at separating from mama, on leash, with "scary" sights and sounds, and are on their way to becoming great family members for those loving humans that are waiting for them! We're working on crate training a little each day. They've gone from having naps in crates in pairs of two, to having time alone in a crate to rest with the door closed. Another scary thing for a young pup, but through encouragement and treats, always making the crate a happy place, they are starting to get it. Crate time with the door closed (in a balanced measure) throughout puppyhood is so important for their overall development and temperament! Though they HATE the crate  door closed at first, in time, it becomes their den; their safe haven. Throughout puppyhood, their crates should be their own space where they feel safe and learn to settle down and calm themselves. This is how they learn to be content by themselves.
They absolutely love humans; they track and follow us and prefer snuggles even ahead of romping and chasing. They are people dogs. We will do temperament testing soon to make sure we haven't missed anything on any puppy. We have vet appointments tomorrow for vaccines, microchips, and thorough exams for each pup.  Within a couple of days, we'll post their official weights from the vet (helpful to see the probably weights as adults) and we'll note any personality differences we see. Still a lot more work to do with the pups but they will soon be ready for their forever homes!
Here they are at almost seven weeks old.
May 4, 2023 – Nora's puppies are getting bigger, eating almost entirely on their own now, and doing very well! They are used to all the "scary" stuff we've presented, and they are very socialized at this point, as expected. They love to snuggle, love being held and track and follow us. All good stuff. Next week we'll start them on crate training so that they learn to be apart during the day, and learn the feel of a crate with the door closed. It's hard work, they cry, but we reward their quiet behaviors and are helping them get ready for home. Crate training is so vital to their overall temperament. A pup that isn't crate trained often develops anxieties. We're doing our part to make the transition easier to crate train at home. Here they are at six weeks old!
April 27, 2023 – Nora and Tucker's puppies are doing very well. They are in the early stages of separating from mama Nora. Nora nurses them a few times a day, but mostly they're loving their kibble mush. They are starting to play more, at five weeks old and we'll take videos of them next week to post on Instagram. They are all  becoming more and more socialized, and this weekend's open house will add to that. They are bonding more with us humans and we feel they are progressing well, and are right where we want them to be!  You can see their coats are starting to fill in more. We'll see a lot more change over the next week or two. Here are the pictures we took of them today.
April 20, 2023 – Nora and Tucker's puppies are growing up! Their coats are starting to fill in, as well as their dark pigmentation on their noses. They are conditioned now to lots of "scary" sounds. They've had countless baths (daily since only a few days old) and all of this is conditioning them for life.
They are now entering a critical social fear stage, and so there are lots of different people holding and massaging them here so that they are conditioned to lots of different human smells and looks. We're having an open house for our Kylie litter this Friday, and we'll be sure to welcome Kylie's puppy families to greet Nora's pups as well, so that they get the added socialization.   They are doing very well! They're now eating mushy kibble twice a day to supplement mama's milk.  It's common with the larger litters that they don't gain weight as fast as our little mini litters. The minis here are plump and fat and bigger than Nora's pups. All expected with a litter of ten. No doubt they will start to catch up quickly!  Here they are at four weeks old.
April 12, 2023 – Nora's puppies are doing very well. The puppies eyes are open, and we took pictures so you can see how they've changed.  Everyone continues to gain weight and they're progressing as expected. They are just starting to hear, so now we start all the sound conditioning to get them accustomed to lots of "scary" noises like thunderstorms, fireworks, vacuum cleaners, blow dryers and more, before their first fear stage sets in. This is another very important step to their conditioning. This is all to raise great puppies with outstanding temperaments for life!
They are each adorable and each pup gets individual attention, pulling them away from their pack for massaging time, baths and attention daily (we have helpers here!)   We make sure each and every puppy is receiving personal love and care.  Soon they'll be playing and wrestling, but for now they love to just eat and sleep.  🙂  Here they are at almost three weeks old!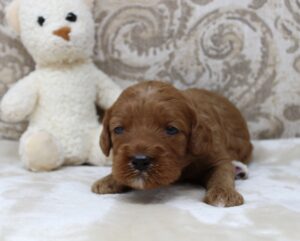 April 5, 2023 – Nora and Tucker's puppies are doing very well. Nora continues to be a great mama and rarely leaves their side.  As you can see by the pictures, they aren't very active yet. This is what we see each day,  they are either nursing or sleeping.  Their eyes are just starting to open a bit. It won't be long now!  We are massaging them and giving them baths daily (this conditions them, as well as we know that keeping them clean helps ward off bacteria.)
The pups go through their daily bio-sensor steps with us as well. Bio-sensor conditioning is the most critical step any breeder can do in raising puppies.  This conditioning stimulates them neurologically, creating more agile, healthy pups, and starting them on a great path for good, solid temperaments.  Massaging and bi0-sensor steps are a way to condition them through touch; one of the only ways to connect with them since they can't hear or see yet.
We have themed this litter "The N Litter," and we welcome to our world, Nehemiah, Nadia, Natalie, Nellie, Nicky, Noel, Naomi, Nadeen, Nichole and Nina! Here are the pictures of them in their pen, at two weeks old.
March 27, 2023 – Just a quick update to let everyone know that Nora's puppies are continuing to thrive and all are doing well and gaining weight. Yay! Sometimes with a large litter like this, there can be one that just doesn't get enough to eat, but all are being weighed and monitored regularly, and all is well.   Unless there's news, we probably won't post another update until next week, as we are focusing on mama and puppy care.
Here are a couple of pictures of the litter on day five!
March 22, 2023 – We are excited to say that Nora's pups have arrived!  We had no pups at our house for months, and now our life, and puppy room will be full again.  Nora brought us a litter of ten pups and mama and pups are doing great.   Nora is a wonderful mama, as we expected, and all of the puppies are nursing and thriving.
The puppies will be ready to come home on May 19 and we're ready to go through the daily conditioning of these pups to prepare them for life and to help them become as wonderful as their parents, Nora and Tucker.
We'll post an update on this blogspot, along with updated pictures every week or two. As the pups get older, you can also keep an eye on our Instagram page where we'll post video of them once they become active.   Here's a picture of the litter shortly after delivery.  We'll post a better picture in a week or so, once pups are a little older and can be taken away from mama for a couple of minutes.