June 1, 2023 – All of Kylie's puppies left a few weeks ago and we're hearing great reports! We're thankful to all of the special families that chose to adopt from us and have provided great, loving homes for each pup from this litter. Because of these families, and the five pups we sold, we were able to give $1,500.00 to Amazima Ministries to help feed and rescue some children out of severe conditions in Uganda. Thank you to all! Here are the happy pups and their families!
May 6, 2023 – The pups all did very well at their vet exams! They have been wormed, microchipped and vaccinated. (They had their nails trimmed too -something their families will want done again at their next appointment.) They all scored very similar, and passed all their temperament testing. Temperament testing doesn't necessarily show personality traits, it's a bit early for that, but it ensures that each has been socialized well, and has been conditioned, not missing anything, and is ready for their new humans to continue the process of preparing them for the world. We have helped create anxiety-free pups that are very smart, affectionate and loving.
Overall, they all scored as submissive, smart, social, adaptable, easy to train and willing to follow and cooperate with their humans. They are very focused on us humans now, and so accustomed to people. They have been held and touched so much, since only four days old (starting with daily massages) so that they have no fear of humans and look to humans to lead and help them. They will all be easy to train! They just need to feel safe (crate training) and have loving, consistent training from the humans that they will be intensely loyal to. They will be dogs that want to stay close, and they will watch for their new pack leader's lead. Where you go in the house, they will be following you! They are perfect and exactly where we want them to be. They are ready to come home soon and we will miss them.
On a side note, they are all doing great on leash and in the crate for naps. We'll continue to work on this as they prepare for home.
Below you can see the official vet weights for each.  Kylie is only 18 lbs and Gunner is about 26-28 lbs.  The adult guess weight is that Kayla, Kate, and  Kenzie will probably grow to be 18-22 lbs. , and Kourtney just slightly bigger than that, while Kelly may be closer to 25 lbs.. Our boy Kaleb, will probably be dad's size reaching to about 28 lbs.   You can see between most of the girls, there's only a small weight difference. Kaleb might be the only one that grows to Gunner's size. 
May 4, 2023 – These past weeks have gone so fast! Can hardly believe these pups are turning seven weeks old! They are doing very well with leash training, crate training (just for daytime naps to learn to be apart and to experience the feel of a crate) and being apart from mama.  They are socialized and LOVE people. We're not seeing any timidity at all. They are right where we want them to be! Tomorrow, they'll be weighed and examined by the vet, and they'll be vaccinated and microchipped.  They'll be temperament tested over the next few days and then we'll post their weights and any personality and temperament traits we see on our next post.  We posted a little bit about Kaleb because so far, his personality has stood out the most.  We'll post more on the others in the next few days. They're almost ready to come home!
April 26, 2023 – We've been very busy here enjoying the pups! They're all doing well.  What we see this week is that they're more alert and very aware of their surrounding, not as focused on mama and becoming more independent of her for sure.  They are much more attentive to humans now, they track and watch us, and are focused on us.  This is exactly what we like to see.  They're very social now, having met many different people. They love being held and settle down quickly when we pick them up. They are submissive and gentle, and they are very trusting of us and love to be walked around while we cradle them on their backs. (We've been doing this since they were only days old.)  They're eating kibble for all their meals now, and only supplement with mama once in a while. They're now sleeping in crates at night with the door open, so they have access to their litter box. We'll start naps in crates this week with the door closed. Crate training is so important in the overall temperament conditioning of a puppy and we start the process here to make it easier when they get home to their families. A puppy that isn't crate trained can develop anxieties. The crate will soon become their safe haven that they love. It'll be very important that their families follow through on crate training when they come home.
Here are the photos we took of them today!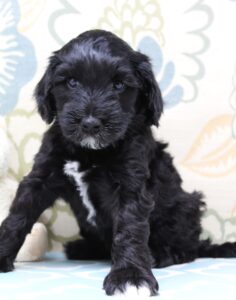 April 17, 2023 – Kylie's puppies are growing up! They have been going through lots of daily sound conditioning, and are now pretty non-reactive to fireworks, blow dryers, storms and more. Next phase we'll be getting them out of the pen more for exploration and introducing them to "scary" visuals like vacuums, tunnels and other large objects. They'll start to run and chase soon and we'll post some video on our Instagram page once they do!  Here they are at four weeks old.
April 10, 2023 – Kylie and Gunner's puppies are three weeks old and doing well. They're starting to hear now, so we've moved on to sound conditioning:  they spend much of their days listening to recordings of loud fireworks, thunderstorms, kids playing, traffic, blow dryers and more. We are desensitizing them during this critical stage, before the fear stages set in, to give them the best temperaments for life. They are becoming laid back pups, and conditioned as much as we possibly can, to have no anxiety as they mature into adulthood. Here are the pictures we took of them today!
April 2, 2023 – Kylie and Gunner's puppies are a little over two weeks old and they are doing very well. They've all gained a lot of weight and mama Kylie continues to be such a good mama. (This is not always the case.) They can't hear yet, but their eyes are open! Welcome to our world:  Kaleb, Kayla, Kate, Kenzie, Kelly and Kourtney.
The pups have been getting lots of massaging, daily baths for conditioning, and going through their daily steps of the bio-sensor program. The bio-sensor program is by far the best thing a breeder can do for a litter.  It is most important in those earliest days, when our only way to truly connect with them is through touch.  The bio-sensor program stimulates them neurologically in specific ways, to help them become desensitized to small challenges, creating a better temperament, while also affecting intelligence and agility.
March 27, 2023 – Kylie's puppies are continuing to thrive and gain weight. They are chunky little pups!  We started the bio-sensor program on them a few days ago, this is a critical step in their conditioning.   The bio-sensor program stimulates them neurologically, adding to their overall health, their agility, and their temperament.  It's perhaps the MOST important thing breeders can do for a litter and has to be done in the earliest days and weeks of life.
Here are a few new pictures, showing the pups at almost one week old.
March 18, 2023 – We are excited to say that we have puppies again!  Kylie brought us a litter of six pups the night of March 16 and mama and pups are doing great.   Kylie is a wonderful mama, as we expected, and all of the puppies are nursing well and thriving.
The puppies will be ready to come home in mid May and we're ready to go through the daily conditioning of these pups to prepare them for life and to help them become as wonderful as their parents, Kylie and Gunner.
We'll post an update on this blogspot, along with updated pictures every week or two. As the pups get older, you can also keep an eye on our Instagram page where we'll post video of them once they become active.   Here's a picture of the litter shortly after delivery.