August 12, 2020 – All of the pups have left and the pen is empty. Always a little sad. But we are careful about each and every home selected and we know that all of these puppies will be well loved. We're thankful for each family that chose us, and because of them (and Taylor and Barkley of course) we were able to donate $3,000.00 to Amazima Ministries and World Relief to help children in Africa eat and live, and to help refugees, immigrants, and displaced families at our border and elsewhere. Thank you to everyone that helps us help others!  We hope the pups are adjusting well, and we look forward to good reports and updates. We'll post pictures as they are sent.
Here's to happily ever afters from our home to yours!
August 6, 2020 – The pups had their vet exams and temperament testing today. All is well with all pups! As expected, slight weight variations. They all scored identical in submissiveness, intelligence and overall temperament.  Some are showing slightly more confident than others, some more adventurous (a step ahead of the others that way) and wanting to observe first before jumping in.  Behaviorists tell us that temperament testing only helps us make sure we didn't miss anything, and certainly would identify if a pup were struggling in an area, but please know that EVERY pup scored exactly as we expect from every litter where we have poured so much into them. They all love people, track and follow, are very affectionate and solid in every way.
You will impact their personalities, and you'll see more come out in their new atmospheres at home as they develop. (Personalities are just starting to form at this age.) Every pup will love adventure (they have lab in them!) and will also be loyal and want to stay close to their humans.  Hiking, swimming, boating, the beach . . . and then coming home to snuggle with you as much as you have time for! This is every pup. Keep up the socialization, the crate training and take them with you whenever you can!
We've posted their weights from the vet below (all pups should grow to about 45-50 lbs.) but some are showing to be more mamas height and weight (Taylor's a little taller and bigger than Barkley by a few inches.)
We've made notes on any personality things we noticed. Remember, some may still be maturing and the atmospheres at home and training styles and involvement with them going forward will have lots to say about how they end up! All are showing the same energy level. They all have their puppy outburst times (a few times a day) where they run and chase as they should! All are so solid and we love each one.
Most important, the vet report: All pups are entirely healthy with no concerns.  Several of the pups, as with all of our litters, have teeth that are still developing and some show minor "base line narrow teeth" that we always see come in perfectly as the teeth develop. Vet says not teeth concerns at all. No overbites or underbites. Heart, hips, eyes, also all good!
Check out the notes we added to the pictures below!
August 4, 2020 – Taylor's puppies are seven weeks old! They're playful and interactive and just starting to show a little bit of some individual personalities at seven weeks. Their personalities will develop much more after getting home with their families. They love chasing, playing and wrestling, but yet just love to be picked up and held for a while. They calmly lay in our laps and we feel like the work we've poured into them is showing. They understand "manding" quite well, though it often takes a few seconds, they ultimately get that they must sit to be picked up or pet.
They watch us closely, tracking their humans, and that's what we want. We expect these pups to  grow into very loyal, attached dogs that follow their humans around the house. More than anything, they want the attention and affection of their humans. They're awesome pups, every one of them! It's been a full day of crate training, leashing training, playtime and photos. Here are the pictures we took of them today.
Soon is puppy selection day (Friday!) and we'll post temperament testing notes and official weights from the vet on Thursday evening after their appointments. Wow, it won't be long now for them going home to their forever families. We know there are some really excited people waiting for them. We've selected great homes for every pup. Yay!
July 30, 2020 – The pups are six weeks old now. Wow! Time is flying. They're still crying in the crate some days, but now it usually only lasts five minutes. They're learning to become more independent. The crate is so important for their overall development, temperament and security. Please continue at home! (Even if they cry at first.) One of the things we love best, is taking pictures of the pups. Especially when they're this cute! We probably took about 50 pictures in about 15 minutes – so easy, because they all sat so quietly on the couch. Look at this adorable bunch!  They have absolutely no clue about how cute they are.
The Girls
The Boys
July 23, 2020 – Taylor's pups are five weeks old and we took pictures today. They're growing fast and time seems to be flying by at our house. Soon, we begin leash training, crate training and lots of other preparation to finalize their conditioning for their forever families. Here they are:
The Boys
The Girls
July 18, 2020 – Taylor and Barkley's puppies are doing very well! They are becoming much more active and playful and we'll post a new video of their play time on Instagram next week. They're eating kibble three times a day now, using their litter box and being desensitized and conditioned to new sounds and experiences daily.  We took some pictures of them today, look how much they've grown!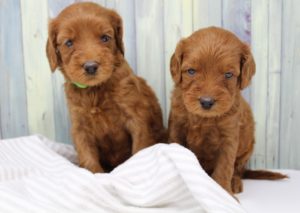 July 8, 2020 – I had to double check our records because we just couldn't believe the pups turned three weeks old today. It popped up on the calendar that it was photo shoot day for them, and honestly, it feels like they just arrived. They are quiet, sleepy little guys and because mama comes running at the tiniest squeak, they barely need to move. She hovers over them and so they really aren't active yet, as they don't need to make effort for any of their needs.  Some litters are wrestling and romping a little bit at this age. Not these pups. Nope. They would barely sit up for their pictures. Ha, ha, we know that will change soon!
We have them listening to loud "scary" sounds as they will be hearing any time now. Fireworks, thunderstorms, kids playing, and sudden "booms" to help them be calm and condition them for life – so important to do before the first fear phase sets in.
Here are Taylor and Barkey's pups at three weeks old!  When they start becoming more active (soon) we will start them on litter box training and get them out into the play area for some more space. Right now, they are still just interested in eating and sleeping.
The Boys
The Girls
July 1, 2020 – Taylor's puppies are starting to open their eyes! They are being massaged regularly but mostly, they still mostly nurse and sleep. Mama is watching over them 24/7.  Here they are at two weeks old!
The Boys
The Girls
And more shots of the litter……
June 24, 2020 – The pups are a week old now and though they still look the same (they will for a little while yet), they've gained a lot of weight. Mama Taylor is very protective of her litter, and she doesn't want us taking them away from her for pictures. We quickly take a few pictures when we can, after we finish massaging them and doing their daily bio-sensor program. No eyes opened yet, as that doesn't happen until about two weeks old. We'll post more after their eyes open, but here's a glimpse of them over the past several days.
June 18, 2020 – Ellie Taylor (mostly known as "Taylor") began labor in the early hours yesterday and by 7 am. she had delivered ten pups:  three boys and seven girls. All are red (we are finding that Barkley has a very dominant red gene) and they are all nursing and thriving.  There were no complications with labor or delivery and Taylor is being an attentive mama and has barely left their side. We are watching them closely, and all seem healthy and strong.  It's a busy summer, with a few mamas all having gone into heat at the same time. Starting this week, we have helpers here seven days a week, from morning until 9 pm each day to help make sure every pup is getting the care they need and no steps are missed. Here are a few pictures of mama and pups.