November 9, 2019 – Annie Ruby's pups went home last week and the puppy room is empty. Honestly, the house feels just a bit colder with no puppies here to snuggle with. Each pup went to a wonderful, loving family and we know they will all have happy lives. Because these families chose us, we were able to give $1,200.00 to Amazima Ministries so that a bunch of kids in Uganda can go to school and can EAT. Thank you to all of the Toy Story Litter families!  One of the pups (Bonnie) is with a forever guardian family and will be tested out to see if she can become part of our breeding program to be a mama next year. And little Buzz is still hanging with us, and it's looking like he may become a stud for another breeder on the east coast. We loved this litter and are grateful for the time with them and the families that have them now.
October 24, 2019 – Today was time to take the pup's seven-week pictures! Selection time is coming up fast. We'll have official weights tomorrow from the vet, but they are all fairly close in size:  up to this point, Buzz has been a little smaller than the others. The pups will all continue to get thicker, wavier coats. Coats, just like teeth, fill in at different rates.
Also, here is information regarding their temperament testing and just a little bit about their personalities (remember that personalities are just starting to show at seven or eight weeks and will develop more as they feed off of their new environments and their new forever humans.)
All six pups scored identical in the categories of socialization, following and connection to humans. Their submissiveness was also almost the same with Jessie, Woody and Bonnie just slightly more relaxed when restricted or restrained. Every pup showed to be very submissive with no barking, struggling or whining when placed in submissive positions. All of the puppies scored identical in the category of social dominance – very friendly, easy-going pups showing to be equally relaxed with others and they will make great companions that will be easy to train due to their intelligence and cooperative attitude.
The pups showed only slight variations in their sensitivity to sound, touch or sight. Jessie is the most confident at this point and shows the least amount of reaction to anything new or "scary."  She was born confident and adventurous it seems! We saw that at three weeks old as more of the "alpha," leading the pack and doing her own thing. She is the one that is a climber, has scaled a crate to quietly make her way out of the pen to explore. 🙂
The way we would describe each of them at this point (yet changing daily it seems, so hard at this early age!)
Jessie and Bo Peep seem the most playful and quick to engage with new people, especially kids.They seem fun and slightly more energetic, they will explore and engage with toys and other dogs. Buzz and Woody seem to be the more cautious, less dominant in the group. They are the followers that will sit back and observe a bit before diving in to new experiences at this point. They want to check things out a bit first to see if they're interested. Andy likes to explore and seems slightly more independent, but as he goes off wandering, he'll keep looking back to make sure his humans are nearby. Bonnie seems most relaxed at this point. A little harder to read, not sure if it is super chill or not quite as confident as the others yet as she ponders everything and observes quietly. They are all very connected, intelligent, and bond easily with humans – this is in their lab and poodle genetics and reinforced by the way that we have raised them! They all play hard a few times a day, wrestling and chasing to burn off some energy (the puppy zoomies!) and then they settle down quickly to rest or snuggle. They all love to be held and to be close to their humans – this is their favorite thing of all. They are all snugglers!
Here they are at seven weeks old.
October 23, 2019 – Today we did temperament testing with the pups and as expected, every puppy did so well and all scored identical on most categories.  We'll post a bit more on that tomorrow. But wanted to share some pictures that we took of them today. Tomorrow we'll do an official photo shoot of each of them.
October 20, 2019 – The puppies are six weeks old and changing so fast. They're much more agile and you probably saw that on the Instagram video we posted. They've had lots of socialization and we continue giving them some alone time in a crate twice a day for almost an hour to help them prepare for being apart from their litter. They are eating kibble exclusively now with no more nursing.  They're teeth are fully in and they are sharp! Playful puppy biting is something we are working on now (every litter, every pup has to be trained not to use teeth to play!) and families will be working on that for a little while after they get home. Playful biting is just something puppies do with each other in their pack. They have to learn that teeth and ankles are not for nipping and that it hurts. They're doing very well and are non-reactive now to almost every new scary sound or any new experience we challenge them with. Everything is pretty much "no big deal," just like where we want them to be at this point.  We took some pictures of them today and we'll post their individual pictures again at the end of the week. They're doing great!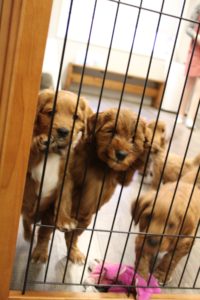 October 11, 2019 – The puppies are five weeks old today and they are changing so fast now. They're playful and engaging and they are learning to sit for attention. We love them! They started on kibble this week. Not crazy about it yet, as they would much rather have
mama. Their teeth are starting to fill in and we need to give mama a break as well as start the process of learning to be independent of mama.   They love massages and belly rubs and Bo Peep and her mama actually play. We've never seen a mama be so playful with her pups. And Bo Peep gets it, and loves interacting that way with mom. It's funny to watch Annie Ruby as she teases and entices Bo Peep. We need to try to be ready with our camera when it happens!  You know how that goes, you run for the camera and everything stops. Jessie is the slightly bigger one in the litter, more adventurous and a step ahead of the others. (Within every litter, they all develop at different stages.)  Jessie is smart and has figured out how to climb on things to make her way out of the pen to explore. The others just watch with wonder. They love to wrestle and are starting to romp and chase a little bit. It won't be long now…… we'll post some video on Instagram next week as they become more active.  Here are some pictures that we took of them today.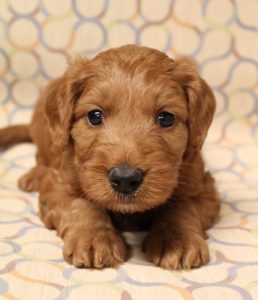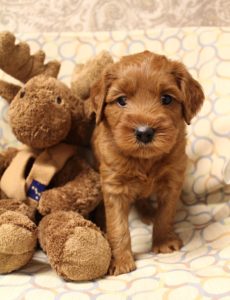 October 7, 2019 – Happy October! We fell a little behind with posting these pictures, as we were busy sending off Gretel's pups to be with their forever families. Now we focus solely on these cutie pies that are starting to become more active, have started on kibble and are learning to play and explore. We wish we could somehow capture the description of their soft coats and puppy breath right through this blog. That experience will have to wait for the open house!  They are listening to thunderstorms, clanging pans, fireworks, kids screaming and playing (all on YouTube, of course) on a daily basis now. What used to startle them now has no effect. This is the conditioning process. We are raising pups with a "Whatever." attitude to go out into the world to be less reactive, super confident and anxiety-free. We are building a foundation of pups to become great dogs that are smart, loyal, and so connected to humans! They are destined to bring companionship and joy into the lives of those that will receive them. "You've got a friend in me, you've got a friend in me….."
We've been snapping pictures over the past few days and here they are at four weeks old. The cutest little pumpkins!
September 29, 2019 – Annie Ruby and Gunner's puppies are three weeks old now and just barely starting to hear. They are becoming more alert, but still mostly sleep and eat. We've moved them into our big puppy room where they have a larger pen and we've introduced them to litter box training. They are smart and are understanding there's a special place to do their business. 🙂  Makes our job easier around here!  So with hearing becoming apparent, we will focus a lot this week on conditioning through sound desensitization. This is an important phase. They don't have fear yet and we have the opportunity to introduce them to lots of new things this week. By next week, they should be wrestling and playing and we'll keep you posted!  Here they are at three weeks old!  I'm sure you can tell by the pictures how big and strong they're getting.
The Girls
The Boys
September 24, 2019 – The puppies are continuing to gain weight and get stronger. Here are a few more pictures we took over the weekend. Mama and pups are doing great! We'll post individual pictures with names next week, at three weeks old.
The Boys
The Girls
September 19, 2019 – The pups are turning two weeks old and their eyes are opening! They're doing fantastic, eating, thriving, becoming a little bit more active, crawling around the pen. Here they are!
The Boys
The Girls
September 15, 2019 – The puppies have steadily been gaining weight and they continue to eat well and stay close to mama. Not much action at all yet, and their eyes have not opened yet. We expect that to happen at the end of next week.  Mama is doing well with them and the room stays quiet as Annie Ruby likes her space away from everybody at this stage.  We are in the puppy nursery many times a day and the pups are massaged regularly. We have been doing the bio-sensor program with them for the past several days and we'll continue that for a while. Today, they had baths under warm running water. They seemed to like it.  Touch is our main connection to them at this point and this is why baths, massages and the bio-sensor program are important.  We are already conditioning them before they see or hear. We know the impact of this early stage and we know the results will be really good!
Here are some pictures we took of The Toy Story Litter today, at nine days old!
The Boys
The Girls
September 6, 2019 – Annie Ruby started labor in the afternoon and by 9 p.m., we had six healthy puppies, nursing and thriving with their mama! We are naming this litter, The Toy Story Litter, and we have three boys and three girls in various red, caramel and apricot coloring, some with white markings.   We welcome to our world Woody, Buzz, Andy, Bonnie, Jessie and Bo Peep!
Mama is doing well. It was a peaceful, delivery and she was a very relaxed mama through the whole process.  She now will rarely leave their side. She's moved into a small front room of our house where she gets the privacy she wants and she feels secure watching over her pups without commotion at this point. It's also easier to keep the room warm this way for the puppies.
We will post a little blurb on this blog weekly with a few pictures to keep you updated. Individual pictures of the pups will be done every two weeks, starting at three weeks old!  Here are a few snapshots of this event!