October 1, 2022 –  Ally and Watson's litter has gone home to be with their forever families. We are hearing great reports that the pups are doing well and everybody is adjusting.   We are so thankful to all of the families that chose us and this litter! Because of them and these pups, we were able to donate $800.00 to Amazima Ministries and $1,000.00 to Mountain Gateway Ministries to help feed and educate children in Uganda and to continue the hard work of rescuing children out of trafficking in Central America.  We can't think of better causes. The pups bring joy to families and some children across the world get to LIVE!  May they all live happily ever after!
And little Apollo was picked up by a courier to fly home to Louise who was waiting anxiously for him to come home to her in Wyoming!
September 26, 2022 – We completed temperament testing this morning to make sure that nothing was missed. Each puppy did great! All are ready for life and for their next phase of obedience training and bonding with their new humans.
Canine experts say that puppy personalities are just beginning to show at seven weeks of age. As they go home, their personalities will continue to develop and be formed a great deal by their new environments, the training style of their leaders, and the energy in the home they go to. We are confident we have conditioned against anxieties and they are solid – now we trust their new families will keep them safe, socialized and loved throughout the fear stages that they will go in and out of during puppyhood.
Here are just a few notes that we can give regarding insight on each pup.
All of the pups are doing well at leash training. All are doing well in their crates for naps during the day, but still not consistent. Sometimes they still cry, but crying rarely lasts more then 10-15 minutes at this point.  Please expect that pups may cry a lot the first day or two, it is a huge adjustment to leave us and their pack.
Please know that each of the pups scored the same in intelligence, sensitivity to sounds, touch, affection and human interaction/socialization. They all score as easily adaptable, easy to train, love to be held and very attached and bonded to their humans. They will follow you around the house and always want to be close. This is part of their genetics and also the way they have been conditioned by us. They are all very intelligent! You will be surprised to see what they understand and what they can figure out. This is the labradoodle. 🙂
Apollo is courageous, enthusiastic and energetic. Service dogs trainers love to see this type of personality. They are ready to work, enthusiastic to follow their pack leaders and to keep up with their humans.  Apollo will probably love adventure.  He is very sweet and affectionate. (As they all are!)
Abigail is a pretty relaxed pup. She's one of the first to typically settle down during play, go and rest and quiet herself in her crate by herself. She's curious and courageous. Loves to climb in a lap even when all the pups are chasing. She's always seemed to be the leader and the one to be most confident from early on. Her little size didn't stop her from not only keeping up with the other pups, but often leading the way. Doing great on stairs already.
Amelia is very sweet and loves toys  (can't get enough toys.) We keep rotating toys so they're always new and interesting for the pups. She's doing well at crate training and settles down by herself pretty easily.
Atlas is curious, adventurous, loves going outside.  A little bit shy on leash still as he ventures around the house, but he's getting there! He loves the pups and other humans more than the toys. He just loves the companionship it seems more than a toy.   Hmmmm…..
Axel is the biggest as you can see. He isn't the alpha pup though. He's more a follower than a leader. (Interesting, little Abigail has been kind of the leader from the start. She's not dominant, just courageous and confident.) Axel is pretty easy going, and kind of just blends in with the other pups. Goes along with whatever is going on and whatever the other pups are doing. He's very sweet.
Avryl is more on the snuggly side, than the playful side. She does love to chase and play, but a little more interested in one on one. Great on stairs already and comes and follows easily. She's doing well in the crate and settle down quickly. A little more on the mellow side so far at this point.
September 24, 2022 – The pups did great at their final vet exam yesterday. They all checked out perfectly, as we expected and have been microchipped, had their first set of vaccines, nails trimmed and are fully wormed. They are doing great at leash training and we had a house full of friends visit them this week for even more socialization.
The pups are confident, loving, courageous and are preparing for their forever families. They all seem well conditioned now to baths and blow dryers and we continue to work on leash and crate training daily. Hard work, for us and them but they are doing excellent!  We will do temperament testing soon and make any notes we have by Monday on personality differences we are able to note.
Mama Ally just went home to her forever guardian family (they were missing her so much) and the puppies are becoming more independent, for sure. There will still be some adjustment time, and even crying perhaps, when they leave us and their siblings, but we are preparing them daily for that separation.
They seem calm with vacuums and fireworks, storms, and more. They are exactly where we want them to be! They play hard (as healthy puppies do) but settle down immediately into our arms and love to be held for long, extended periods of time.   They are very good at their litter box use now, and it's a great step to prepare these pups for potty training in their forever homes.   Here they are after their baths and blow dry today!
September 13, 2022 – The puppies are six weeks old now! This is hard to believe. Time is flying by at our house! The pups have changed so much in the past week or so. They are active and doing as healthy puppies do…. chasing, wrestling, playing with toys, and yet, stopping everything to relax and be held by us humans. They're exactly where we want them to be. They are affectionate, confident, socialized, and non-reactive to scary sounds.  They are now eating mushy kibble three times a day, and mama is starting to separate more from them emotionally and physically. The pups are well conditioned to baths now too. The blow dryer is something they experience daily now for conditioning. They are doing well at litter box training and that is a great launching pad to potty training with their forever families. We started them on crate training this week. A little whiney for sure, but it's a must for preparing them for home and being away from each other.
We're loving each of them. Seriously, no favorites here. They're all adorable! Here they are at six weeks old.
September 5, 2022 – Ally and Watson's litter is becoming more active and you can see by the pictures we took today that they are more alert and focused. They track us and have bonded with us humans and they whine now to be picked up when we come near the pen or when they hear someone's voice.  Our next phase of conditioning involves not giving them any attention until they are sitting.  It's called "manding" and it's a great Puppy Culture teaching. We will begin to ignore whining, jumping up towards us, and we will ignore demanding behavior. This is a lesson that will hopefully be reinforced by their humans for life, so that they have good social behaviors.
The pups hear different recordings of "scary" sounds daily for more conditioning to help them to be totally comfortable with things that could potentially cause lifelong anxieties if they aren't conditioned before fear phases set in.   At this point, they've been hearing for about a week and they are non-reactive to loud fireworks, vacuums, hair dryer sounds, thunderstorms and other common noises that can sometimes cause dogs trauma and fear. They're doing great!  Here they are at almost five weeks old!
August 27, 2022 – Ally's puppies are three weeks old now! They are done with their bio-sensor steps and we're working on the next phase of conditioning. They're getting lots of baths (they love the warm water), and daily massages and now that they're starting to hear, we are playing thunderstorms, fireworks, vacuums and lots of "scary" sounds during they day to condition them as we, and mama, stay close to give them positive touches as they experience the new sounds.  It's important that we do this before they're first fear stage sets in (around five weeks of age). They're totally relaxed and comfortable being touched and held in all positions and are very comfortable with us humans. You can see in today's pictures that they are wide awake and alert now!
August 18, 2022 – The puppies are two weeks old now and their eyes are open! We welcome to our world: Abigail, Amelia, Avryl, Apollo, Atlas and Axel. They are doing very well, have gained lots of weight and mama Ally continues to be an attentive, outstanding mama. The pups have been working through the bio-sensor program, where we place them in specific positions, five specific steps done daily. They are massaged and bathed daily for conditioning as well. They only sleep and eat at this point, but we should start seeing them move about (crawl) around the pen in about a week.  Here are the pictures we took of them today!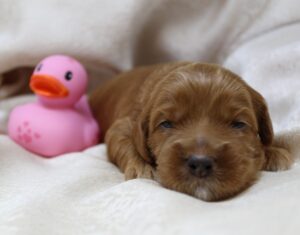 August 7, 2022 – We've had an empty house for a while, but we're excited to have puppies again!
Ally had an uneventful, easy delivery and the pups arrived on August 3.  We have six healthy pups:  three boys and three girls.
All of the puppies are thriving and gaining weight and are about to start on the bio-sensor steps to start their temperament conditioning. Since they can't see or hear for a little while yet, touch is our way to condition and connect with them. The bio-sensor program is one of the BEST things any good breeder can do for the pups!  Here are a few pictures of the puppies earliest days.  Mama is doing great and she is a very loving and attentive mama, as we expected.